The Haute Route in a nutshell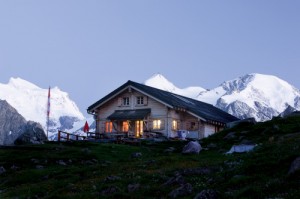 Chamonix to Zermatt, Mont Blanc to the Matterhorn. What pictures these names conjure in the minds of those of us who love mountains! The two greatest mountaineering centers in the world—one overshadowed by the highest massif in Western Europe and the other by the most famous, if not the most elegant and most instantly recognized of all mountains.
In two weeks of mountain travel you will witness the greatest collection of 4000 meter peaks in all the Alps, and visit some of the most spectacular valleys. There you'll find delightful villages and remote alp hamlets, wander flower meadows and deep fragrant forests, skirt exquisite tarns that toss mountains on their heads, cross icy streams and clamber beside glaciers than hang suspended from huge buttresses of rock.
You'll traverse lonely passes and descend into wild, stone-filled corries. There will be marmots among the boulders and ibex on the heights. And your days will be filled with wonder. The Walker's Haute Route, contender for the title of the Most Beautiful Walk in Europe. Chamonix to Zermatt – The Walker's Haute Route by Kev Reynolds Available from the Alpenwild Map Store
Haute Route History
Many of the passes you'll cross on the Haute Route, linking one valley to another, follow the lines of ancient trade routes, many dating to medieval times and some much earlier. The linking of these trails, routes, and passes to create a high-level mountaineering and hiker's route from Mont Blanc to the Matterhorn was first achieved by members of the British Alpine Club in 1861. The route ascended the Chamonix Valley to Col d'Argentier, then through Val Ferret, Orsières, Bourg St. Pierre, Col de Sonadon, Col d'Oren, Praraye, Col de Valpelline and concluding in Zermatt.
Today's alpine hiking route follows a network of well-marked and signposted trails that stays below 3000 meters and takes advantage of the popular mountain huts and small inns and hotels in the charming villages along the way. The route is safe, entirely non-technical (requires no ropes, crampons, or protection devices) and while challenging because of its daily elevation gains and distances, is achievable by any hiker in reasonably good physical condition.